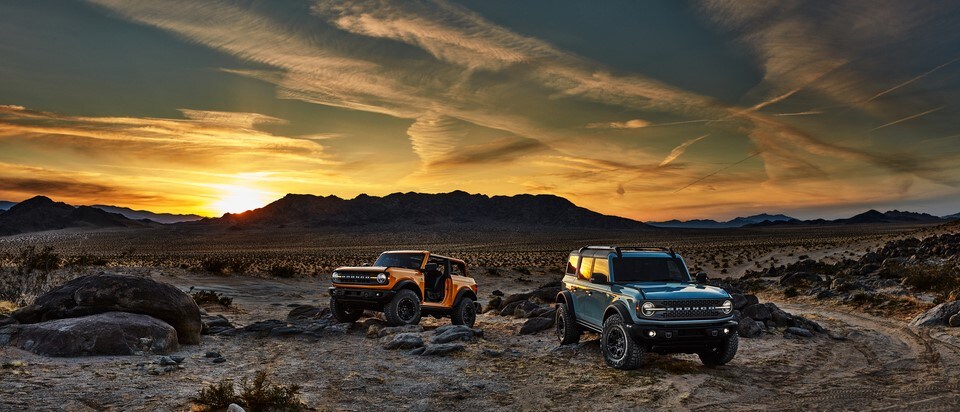 Check Out The Ford Bronco Accessories Available in Bryan, OH

If you want a better experience with your new Ford Bronco, you should consider accessorizing it with better options. These accessories and options will assist you in having an off-road capable Bronco.
Brakes
When off-roading, you require power and precision. Having your brakes in the best condition will prevent you from flying off a cliff. In your new Bronco, we provide you with the best quality brake pads, rotors, brake line and hose kits, and brake kits.
Bumpers
We have a heavy-duty modular front bumper that will assist with better off road protection. If you're one who loves having lights and winches on your Bronco, our bumper will be the best solution. It's made from steel, and we also have a rear bumper for additional protection.
Drivetrain
In the new Ford Bronco, you can choose between two transmissions. There is the 10-speed automatic Ford version and the six-plus one-speed manual. The plus one is a low crawler gear that can work in either low or high range.
Engine
Currently, we have two turbo engines for you to choose from. These will entail a 2,300-cc turbo inline-four and a 2,700-cc twin-turbo V6.
Exhaust
If you want to add more power and torque to your Bronco, you should consider an exhaust upgrade. You can also get an exhaust to provide you with better ground clearance if you have an adventurous spirit.
Exterior
You can get the Bronco with either two doors or four doors. Both of which are ideal for adventure. You can also get it in a few colors. They include:
Summit white
Shadow black
Rapid red
Cyber orange
Race red
Area 51
Cactus gray
Iconic silver
Carbonized gray
Antimatter
Gifts & Lifestyle
If you want to experience everything the Bronco offers, you can enjoy the frameless door design. It's a vehicle that respects its heritage, thus being ideal for Bronco aficionados and off-road enthusiasts.
Intake
With all the modification options for the 2,700 cc EcoBoost V6 in the Bronco, it's easier to find cold air intake accessories. They aid with better airflow that boosts the performance of your Bronco. They also boost the aesthetic appeal of the engine.
Interior
The Bronco interior is designed to get dusty, muddy, and wet. To make it easier to clean, you get a drain hole in all footwells. There is also waterproofing in all the switches to ensure that everything can work ideally in any weather.
Lift kits
Lift kits are the ideal solutions for off-roading. You can adjust the ride height with a lift kit in the new Ford Bronco to make it higher and put on some larger tires. However, the suspension and tire options for the Ford Bronco as it is will be enough for all your off-road needs.
Lights
To boost your on and off-road visibility, our new Ford Bronco has LED fog lamps. There is a corning lamp feature that swivels and activates to assist with illuminations in the turns.
Performance
The 2,300-cc engine produces 310 lb-ft of torque and 270 hp, while the 2,700-cc engine produces 400 lb-ft of torque and 310 hp.
Chips & Tuners
With support from aftermarket developers, your new Ford Bronco can attain better performance. These professionals will be crucial to solving all enhancement problems that you might have with the engines.
Suspension
There is an independent front suspension on the Bronco that ensures better vehicle behavior on paved roads. It's also the ideal option for off-road use because it makes the drive enjoyable.
Wheels & Tires
Choosing the sasquatch package gets front and rear locking differentials, 17-inch bead-lock capable wheels, high clearance fender flares, Bilstein position-sensitive monotube shocks, 35-inch tires, and a 4.7 final drive ratio.
Hours
Monday

8:30 AM - 7:00 PM

Tuesday

8:30 AM - 7:00 PM

Wednesday

8:30 AM - 6:00 PM

Thursday

8:30 AM - 7:00 PM

Friday

8:30 AM - 6:00 PM

Saturday

8:30 AM - 2:00 PM

Sunday

Closed