Your New Ford Mustang Awaits at Bryan Ford
Anyone who is looking for a vehicle that makes an impression knows the Ford Mustang will always be there to help you do it. For decades, the Ford Mustang has been an American icon, and has transcended into the pop culture realm as a symbol of all-American speed and muscle. Here at Bryan Ford you can experience the Mustang when you stop in and take a closer look, and feel the excitement it provides anytime you're behind the wheel.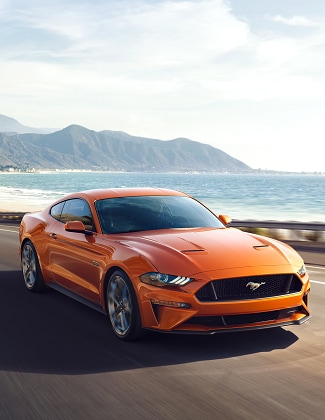 Mustang Style, Performance, and Features
With a modern look that is able to hold true to its muscle car roots, the Ford Mustang offers visual appeal straight away, and that only continues when you climb inside. You're going to find standout materials for equal parts comfort and sport, plus plenty of onboard technology to make it a connected and fun driving experience. You'll also find a fully-digital instrument cluster that you can customize, plus features like Ford Track Apps™ which allows you to record your lap times if you take it on a course somewhere around Bryan, Napoleon, and Montpelier, OH. In addition, you can seamlessly integrate your smartphone using SYNC® 3 onboard with connection to Android Auto™ and Apple CarPlay™ to provide you with calling, texting, music streaming, navigation and more on the go.
Of course, everyone knows that a Mustang should have plenty of power, and it certainly does, with a 2.3-liter EcoBoost® engine that pumps out 310 horsepower for standard vehicles, upping the efficiency while keeping the performance high. For even greater power, the 5.0-liter V8 produces 460 horsepower, to let you really hear the engine roar. Sometimes, you do need to keep it quiet, and there's actually a feature that helps you do that with the Mustang. It's called quiet mode, and you can set and customize times when the engine noise is less so you're not waking up the neighbors or family.
Along with standout performance, there's plenty of safety measures, as you'll find features like adaptive cruise control, BLIS® for blind spot monitoring, and more to make cruising the streets in your new sports car stress free.
Stop in Today To Get Behind the Wheel of a New Ford Mustang
Here at Bryan Ford serving Hicksville and Archbold, OH our team would be happy to provide you with all the information you need, answer any questions and arrange a test drive in the Mustang. Contact us to learn more, and we'd be happy to help you today!